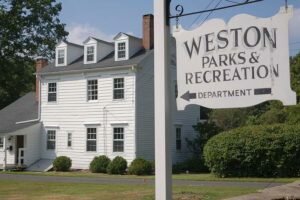 Just shy of two years ago, Weston Parks and Recreation brought in a new program director to supplant a position that had been heralded for more than 40 years by Bill Schaeffer.
Joe Parciasepe's goal had always been to revamp the department's summer camps. He began by bridging the gap between the end of the school year and the start of Weston's camp.
"We had three days available so we planned out a travel camp, where fifth to eighth graders would leave Weston in the morning and experience three field trips in Connecticut," he said.
Adventure Camp took on popularity and eventually merged with Sports Camp to create Sports Camp: Stars & Sports Camp: Travel, Weston's camp offerings for rising third graders and eighth graders.
These camps are housed out of Weston High School and offer campers weekly field trips to places like Sky Zone Trampoline Park, Club Getaway in Kent and, new this year, Powder Ridge in Middlefield, which boasts its own four-season synthetic ski hill, mountain biking, disc golf and kayaking.
Parks and Recreation offers camps for children aged pre-K through eighth grade, all housed in the Weston schools. Many of the camps boast a variety of teachers and staff from the public schools, some with more than 10 years of experience at the camps.
Soaring Eagles Camp (rising first and second graders) has a new director, Hurlbutt School music teacher Jessica Cardamone. Among the possibilities discusses are spirit days, themed art projects and a more transparent weekly schedule.
Parks and Recreation also offers programs for adults in town. This summer it will offer tennis classes for adults. Tennis Tuesdays and Thursdays is a great opportunity for someone who has never played or is a bit rusty and looking to get back into the game.
The program will offer two morning sessions on Tuesdays and two evening sessions on Thursdays. Interested residents should contact the recreation office to have your name put on a list.
Weston also offers men's and women's softball leagues. The women's league plays on weeknights in the summer and are always looking for new teams and players.
Play begins June 19. Interested parties should contact the recreation office at 203-222-2655.
To officially kick off summer, Weston is partnering up with several of their municipal departments to host the second annual Big Summer Kick Off on Saturday, June 23, at the Weston Middle School field. There will be an outdoor movie (Paddington 2), popcorn for guests, food trucks and an ice cream truck.
The event begins at 7, and the movie will start at dusk. Moviegoers will have the opportunity to play games, use the playground and field as well as have their faces painted. The Magic Genie will also get the crowd warmed up for fun.
The Bisceglie-Scribner Pond will host a season-opening party on June 26 from 3-6.
With the help of the Friends of Bisceglie Pond, the recreation department will look to host multiple events at the pond, mostly on Tuesdays.
Bisceglie Pond is free to residents. Passes can be obtained online or at the recreation office; guests pay $5. Check for a schedule of events and book birthday parties early.
Returning this year is the annual Family Fishing Class and outing the week of July 9. The website has more details. The learn to fish class is held at Weston Senior Center and the fishing trip will be at the Saugatuck Reservoir. You may bring your own equipment, but bait and fishing equipment are supplied.
For more information about any of the programs, click here.