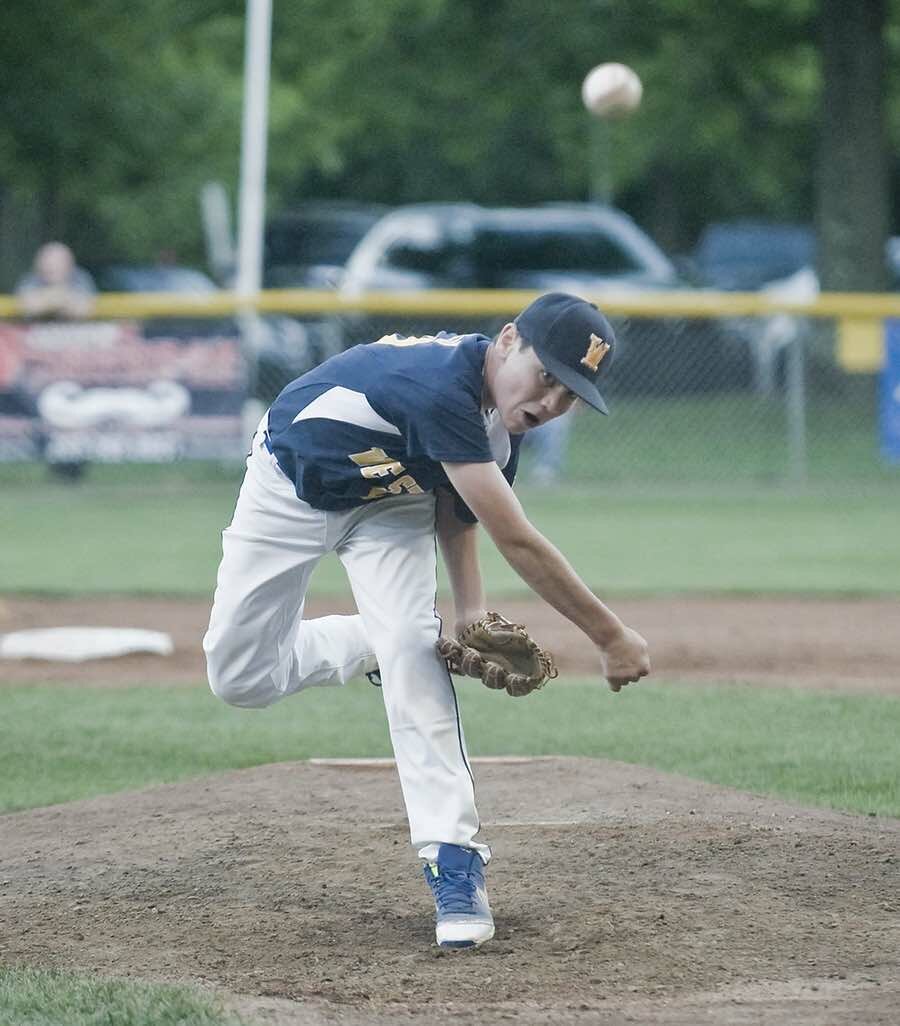 The Weston Little League 12U baseball all-star team took another step to making history as it advanced to the Connecticut District 1 championship series with an 8-5 win over Stamford National in the winners' bracket final on Monday night in Wilton.
Weston has never won the district title in the Williamsport tournament, but can do so with a win on Friday night at Stamford Springdale Field (7:30), or if needed, on Saturday night at 7.
Three other teams remain alive in the tourney. Stamford National dropped to the losers' bracket final on Wednesday night, where it will play the winner of tonight's game between Wilton and Stamford American.
"I don't care who we play, where we play, we're ready. This team is ready to win a championship," said manager Steven Polizzi. "Our team is really starting to understand a game plan about baseball. And we're sticking to it. It's working. It's not perfect but it's getting better. We're still making some mistakes, but we're getting better."
Weston got another solid outing from starting pitcher Ben Landesman, who held Stamford National to three runs (two earned) and five hits over four and one-third innings. He walked three and struck out six.
Landesman was coming off a no-hitter last Wednesday in a 1-0 win over Stamford North.
"It was not quite as clean as the Fourth of July game, but he battled and he kept us in the game, and finally some of our bats started waking up in the middle of the lineup," said Polizzi.
The nine-hit Weston offense was led by Emmit Arees, who was 3-for-3 with a home run and four RBIs. Landesman was 2-for-3 with two runs scored, while Stephen Polizzi (RBI) and Aidan Forrest each had a double. Timmy Amato and Dylan Delaney also had base hits. Michael Amato and Jake Weissman each had a walk, and Zach Selden scored a run.
Colby Lintell got the save, pitching the final one and two-third innings and allowing two runs (both unearned) on one hit and a walk.
Stamford National jumped out to a 1-0 in the bottom of the first on a home run to center by Jake Safir. Stamford had runners on second and third with two outs but Landesman escaped on a grounder back to the mound.
Weston answered with two runs in the top of the second. Michael Amato walked and Landesman reached on an error. Arees then singled to left field to drive in Amato, and Landesman scored when the ball rolled past the left fielder all the way to the fence.
In the top of the third, Weston went up 4-1 with two more runs. Timmy Amato singled and Polizzi was hit by a pitch. With two outs, Landesman hit a chopper up the middle for a hit, loading the bases. Arees again came up big with a soft liner to centerfield to drive in Amato, with Polizzi scoring when the centerfielder bobbled the ball.
Safir led off the bottom of the third with a ground rule double, and eventually scored on a wild pitch to cut Weston's lead to 4-2 after three.
In the top of the fourth, after walk by Weissman and single by Timmy Amato, Polizzi drove a pitch to the right-centerfield fence for a two-run double to make it 6-2.
The lead went to 8-2 in the fifth when Landesman beat out an infield hit and Arees followed by a home run down the left field line.
Angelo Fry's RBI single cut the lead to 8-3 in the bottom of the fifth.
In the bottom of the sixth, a couple of errors kept Stamford's hopes alives, with Cassie Robotti's two-run double making it 8-5. But with the potential tying run at the plate, Lintell ended the game with a strikeout.
Stamford's hitting was led by Safir (3-for-3, home run, double, three runs, RBI), Robotti (1-for-3, double, walk, two RBIs) and Fry (1-for-2, RBI). Sean Fox and Will Nardella also had hits.
Safir took the loss, going three and one third innings and allowing five runs (one earned) on three hits and a walk.
After losing its first game of pool play (to Stamford American, 12-4), Weston has now won five in a row, outscoring the opposition 33-16.
"They knocked us off the first time we played them in pool play, so it was nice to come back and show them, hey, this is the team we really are," said Polizzi, who gave a shout-out to his fellow coaches.
"My two assistant coaches, Mike Lintell and Ian Forrest, I couldn't ask for a better coaching crew with putting these game plans together and coming up with these wins," he said. "It's been quite a run. It's been a lot of fun."