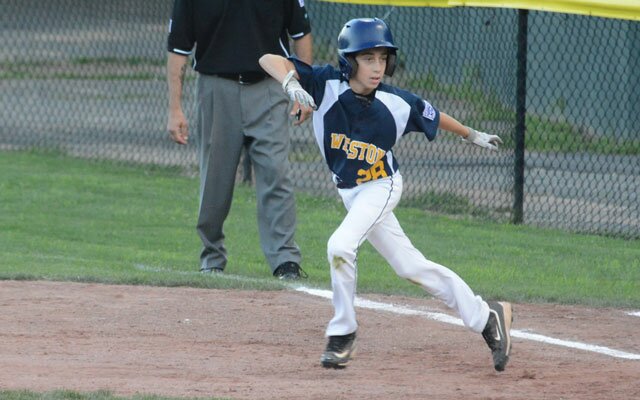 Weston's 12 year old baseball team battled to the finish but came up just short in a 5-4 outcome against Milford in Sectional Tournament round-robin action at Stamford's Springdale Park on Friday night.
Milford advances to Saturday's championship game against Fairfield American at 2:30. Weston's great run is over.
"I couldn't be prouder of these guys. We lost a tough game. I tip my hat to them," Weston manager Steve Polizzi said of Milford.
A tough game indeed.
Milford scored first, in the top of the opening inning. Weston responded with three runs in the bottom half of the frame, but Milford evened the score with a pair in the third and went ahead on Zach Worzel's two-run home run in the fifth.
Weston scored in the bottom of the fifth and had the tying run at third but couldn't get even as Worzel shut the door in relief.
An error, followed by a single off the bat of Michael Amato set the stage for Ben Landesman's three-run homer for a 3-1 Weston lead.
After Milford reeled off four straight runs, singles by Stephen Polizzi and Landesman, followed by two pitches that got to the backstop resulted in a run. Worzel got a strikeout to strand the tying run at third, then struck out the side in the sixth to end it.
"I didn't expect this to be an easy game," Steve Polizzi said.
Despite the outcome, the Weston players have plenty to hold their heads high about. After all, this team captured Weston's first district title, the manager said, then had a nice effort in the sectionals.
"This is something you can't take away from these kids. I'm unbelievably proud and happy to be a part of this," Steve Polizzi added. "This is certainly satisfying on a lot of levels."
Polizzi said his players rose to the occasion to have a successful season.
"All the kids really just stepped up and had a fantastic summer," he said.
The Weston manager is assisted by coaches Ian Forrest, Mike Amato and Mike Lintell.
Team members include Timmy Amato, Michael Amato, Aidan Forrest, Stephen Polizzi, Ben Landesan, Emmet Arees, Keiran McGuire, Dylan Delaney, Zach Selden, Colby Lintell and Jake Weissman