Lauren Clark Abbe Banik, age 64, of Redding, passed away peacefully at her home Monday, May 14, 2018.
Warren and Shirley Stanton. Warren is the grand marshal for Weston's Memorial Day parade. Army veteran Warren Stanton ...
Raghib Allie-Brennan, foruth from left, with delegates who supported his nomination for State Representative for the 2nd District. ...
To the Editor: Our elected officials need to conduct a fundamental review of what services our town government, including our schools, provides and how, but right now we need to get a budget in place for the year starting July 1. Do not consider, for even a fleeting moment, raiding the town's fund balance. That is our savings account that the Board of Finance worked years to build up and sustain. Furthermore, our current Board of Finance leadership needs to consider our local economy when deliberating what level of spending is appropriate. The Redding Board of Education needs to propose ...
Read more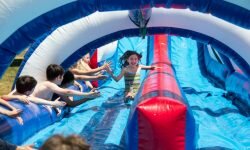 Ridgefield Academy's 15-foot water slide, The Patriot Plunge, is a highlight for campers. Sponsored Content:  ...
To the Editor: The Redding Garden Club thanks the town for supporting our annual Plant ...
Sign up for our Online Today email newsletter ➡
The list is growing! Join the hundreds of Easton, Redding and Weston residents who already receive our daily newsletter. You'll get the latest news, sports, events, features and much more delivered daily to your inbox from Aspetuck News.