Last week we changed the way we deliver our news content, in print and online, to the readers of The Easton Courier, The Redding Pilot and The Weston Forum. Readers of The Easton Courier, The Redding Pilot and The ...
The long-standing saga surrounding Adirondack Trail being accepted as an official town road is finally over. At its ...
The Redding Elementary School PTA is sponsoring an interactive science and art fair called Imagine a World on ...
Funeral services have been set for Don Heibeck of Wilton, a longtime member of the Georgetown Volunteer Fire Company who died on Wednesday, Jan. 3. Services will be held on Saturday, Jan. 20, from 3 to 5 p.m., Bouton Funeral Home, 31 West Church Street, Georgetown. Heibeck's family was the owner and founder of the Wilton landmark Heibeck's stand, known for its burgers, sandwiches and ice cream. The store has been ...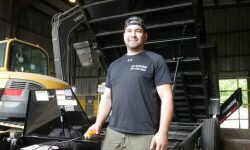 EZ Junk Removal owner Ezra Zimmerman drops off a trailer of junk at the Ridgefield ...
To the Editor: The heat is on!  On Monday, Jan. 15, we will celebrate with ...
Sign up for our Online Today email newsletter ➡
The list is growing! Join the hundreds of Easton, Redding and Weston residents who already receive our daily newsletter. You'll get the latest news, sports, events, features and much more delivered daily to your inbox from Aspetuck News.