Last week we changed the way we deliver our news content, in print and online, to the readers of The Easton Courier, The Redding Pilot and The Weston Forum. Readers of The Easton Courier, The Redding Pilot and The ...
The Easton Police Department responded to 200 calls from Jan. 8 to Jan. 15. Among the calls were ...
There were 25 home sales in Weston in the month of December, up considerably from the 11 home ...
Nina Daniel Former Weston First Selectman Nina Daniel was given a proclamation by current First Selectman Chris Spaulding honoring her for her service to the town. "I'm incredibly excited to give this proclamation to an unbelievable servant in this town, to a mentor for me. She's a great Weston citizen for multiple generations," Spaulding said at the Board of Selectmen's meeting on Thursday, Jan. 18, The proclamation praised Daniel for ...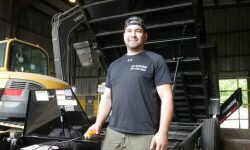 EZ Junk Removal owner Ezra Zimmerman drops off a trailer of junk at the Ridgefield ...
To the Editor: I was profoundly disappointed with Hersam Acorn's decision to consolidate three towns ...
Sign up for our Online Today email newsletter ➡
The list is growing! Join the hundreds of Easton, Redding and Weston residents who already receive our daily newsletter. You'll get the latest news, sports, events, features and much more delivered daily to your inbox from Aspetuck News.