WGTV Channel 79, Weston's government access channel, has daily showings of recent Weston governmental and board meetings as well as community events. Current broadcast listing of local events on WGTV Channel 79: Memorial Day parade, May 28, 10 a.m. Memorial Day ceremony, May 28, 11 a.m. Board of Finance June 14 meeting, noon. Board of Selectmen May 3 meeting, 3 p.m. Board of Selectmen May 17 meeting, 4 p.m. Citizen of the Year Award Ceremony, 7 p.m. Board of Selectmen June 7 meeting, 7:30 p.m. Live broadcasts will pre-empt rebroadcasts.
Three Joel Barlow High School Students were recipients of awards sponsored by the Redding Republican Town Committee as ...
Tony Hwang When state Sen. Tony Hwang was two years old, his father left his home in Taiwan ...
Weston High School seniors Alexander Leo, Nathan Katz, David Katz, Gabriel Kiran Edwards, and Ian Borowik each received a $500 scholarship from the Daniel E. Offutt III Charitable Trust. The trust awards scholarships to graduating seniors who have demonstrated passion, dedication, and the ability to inspire others in the field of visual, technical, music, theatre, and film/videography and who plan to pursue further education in the Arts.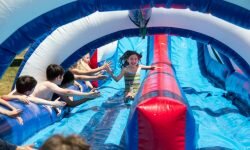 Ridgefield Academy's 15-foot water slide, The Patriot Plunge, is a highlight for campers. Sponsored Content:  ...
To the Editor: The Easton Board of Selectmen usurped the Town Meeting by denying the ...
Sign up for our Online Today email newsletter ➡
The list is growing! Join the hundreds of Easton, Redding and Weston residents who already receive our daily newsletter. You'll get the latest news, sports, events, features and much more delivered daily to your inbox from Aspetuck News.