The gate at Topstone Park in Redding will be opened and closed every day for a few weeks by a volunteer. Redding Park and Recreation said there is a sign in front clearly letting people know when the gate ...
Rob Thomas, a business development consultant and principal of Rob Thomas CT, will present "Beyond Business Card Exchange" to ...
Weston resident Roneil Icatar, with his son Nathaniel, left, got shaved at Weston's St. Baldrick's event. Roneil is ...
Carolyn Kepcher The Redding Country Club has announced that Carolyn Kepcher has joined the club serving as its Chief Operating Officer and General Manager. Kepcher spent the last seven years at Aspetuck Valley Country Club in Weston, as Vice President and General Manager. There, she was instrumental in membership acquisition, creating a high level membership experience as well as leading several major projects, including Clubhouse renovations, a new terrace bar, ...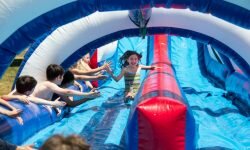 Ridgefield Academy's 15-foot water slide, The Patriot Plunge, is a highlight for campers. Sponsored Content:  ...
To the Editor: The Redding First Church of Christ, Congregational, has announced its annual Charity ...
Sign up for our Online Today email newsletter ➡
The list is growing! Join the hundreds of Easton, Redding and Weston residents who already receive our daily newsletter. You'll get the latest news, sports, events, features and much more delivered daily to your inbox from Aspetuck News.