Weekly Police Log for the towns of Weston, Redding, and Easton. Weston Disorderly conduct, weapons On March 30, Richard Phillips, 56, of Kettle Creek Road was arrested by Weston police and charged with disorderly conduct after police received a ...
Redding Thursday, April 19, 7:30 p.m., Democratic Town Committee, Town Hall Hearing Room. Thursday, April 19, Historic Review ...
Daffodils at Weston Public Library were planted in honor of the late Franc Vitale. There is an impressive ...
State Sen. Toni Boucher stands with Marc Fitch of the Yankee Institute in front of the Capitol. On the same day she announced she would not be running for governor, State Senator Toni Boucher attended a demonstration by the Yankee Institute at the Capitol in Hartford to oppose tolls. As part of the demonstration, 72 toll troll signs were placed on the Capitol lawn on Wednesday, April 18. The signs ...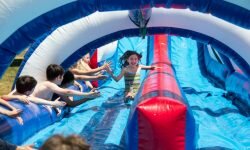 Ridgefield Academy's 15-foot water slide, The Patriot Plunge, is a highlight for campers. Sponsored Content:  ...
Thank goodness I live in Weston. We should be very proud of how we deal ...
Sign up for our Online Today email newsletter ➡
The list is growing! Join the hundreds of Easton, Redding and Weston residents who already receive our daily newsletter. You'll get the latest news, sports, events, features and much more delivered daily to your inbox from Aspetuck News.