Last week we changed the way we deliver our news content, in print and online, to the readers of The Easton Courier, The Redding Pilot and The Weston Forum. Readers of The Easton Courier, The Redding Pilot and The ...
Scene from a previous barn dance at Norfield Grange. The next one is scheduled for Saturday, Jan. 20. ...
William McKersie Weston's school superintendent, Dr. William McKersie, is convinced that creating global citizens is the district's highest ...
The Easton Planning and Zoning Commission may organize a citizen survey to gauge public opinion on issues being addressed in the town's new master plan. The P&Z is finalizing a draft of the new plan and will hold a public hearing to get feedback on it in the coming months, but could also use some type of survey to get the opinion of a wider group of residents. Easton P&Z ...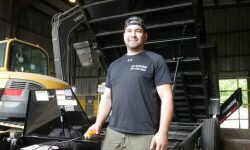 EZ Junk Removal owner Ezra Zimmerman drops off a trailer of junk at the Ridgefield ...
To the Editor: The heat is on!  On Monday, Jan. 15, we will celebrate with ...
Sign up for our Online Today email newsletter ➡
The list is growing! Join the hundreds of Easton, Redding and Weston residents who already receive our daily newsletter. You'll get the latest news, sports, events, features and much more delivered daily to your inbox from Aspetuck News.