The Redding Highway Department will be working on Meeker Hill Road on Thursday, July 19 and Thursday, Aug. 2. Both dates are weather dependent. Residents should expect closures and delays and are urged to seek alternate routes. Residents living in the work zone will be able to access their properties.
The Primary Election in Redding will be held at the Redding Community Center on Aug. 14 from 6 ...
In preparation for the Aug. 14 Democratic and Republican party primaries, the Weston Registrar's Office will be holding ...
STAR's second annual Family & Friends Golf Tournament will be a 9-hole best ball scramble with a shotgun start on Saturday, Sept. 15, at the Silvermine Golf Club in Norwalk.
The Weston 11-12 Little League team defeated Wilton, 15-4, to win the District 1 title on Friday night ...

Up and coming Cal Ripken baseball players from Easton participated in the 8U state tournament, at Newtown's Glander Field in early July. Easton, after falling to New Canaan in its first game, defeated Bridgeport 8-6 the next day, then fell 6-4 to Newtown on day three, ending things in the double elimination bracket. Regardless of the ...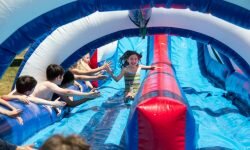 Ridgefield Academy's 15-foot water slide, The Patriot Plunge, is a highlight for campers. Sponsored Content:  ...
Lachat is "where it's at" in Weston these days. A vision has just about become ...
Sign up for our Online Today email newsletter ➡
The list is growing! Join the hundreds of Easton, Redding and Weston residents who already receive our daily newsletter. You'll get the latest news, sports, events, features and much more delivered daily to your inbox from Aspetuck News.