All Easton, Redding, and Region 9 schools will be closed today due to the snow. All town offices are on a two hour delay, pending full closure. The decision for full closure will be made by 9 a.m. Be careful ...
Reflexology: Specialized foot massage designed to relieve body stress is now available on Tuesdays from 1 to 2:30 ...
Last week we changed the way we deliver our news content, in print and online, to the readers ...
[UPDATED 10:39 a.m JAN. 16] The cause of the death of the 10-year-old New Canaan fourth grader was flu complicated by pneumonia followed by sepsis, according to New Canaan Director of Health Dr. David Reed on Tuesday, Jan. 16, at 10 a.m. Reed reported to the Advertiser information that he received from a New York State medical examiner. "It had nothing to do with hockey," Reed said, responding to question ...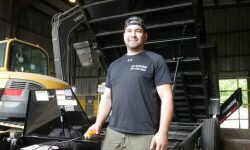 EZ Junk Removal owner Ezra Zimmerman drops off a trailer of junk at the Ridgefield ...
To the Editor: The heat is on!  On Monday, Jan. 15, we will celebrate with ...
Sign up for our Online Today email newsletter ➡
The list is growing! Join the hundreds of Easton, Redding and Weston residents who already receive our daily newsletter. You'll get the latest news, sports, events, features and much more delivered daily to your inbox from Aspetuck News.