In its final report of the season, the Connecticut Department of Public Health (DPH) said there were seven additional deaths related to the influenza virus, bringing the total number of fatalities in Connecticut to 119. "Connecticut has passed the ...
A forum on tax issues will be held on Thursday, May 17, at 6:30 p.m. in the Community ...
Irene Yee and Jack Aronson at work on their robot 'Elite Turtle.' The robotics team at Weston Middle ...
The Greater Bridgeport Retired Teachers Association is offering scholarships in the amount of $1,100 each to be awarded to 16 seniors, one from each of the public high schools in the greater Bridgeport area, who express intention to pursue a career in education. Retired teachers from Bridgeport, Easton, Fairfield, Milford, Monroe, Shelton, Stratford and Trumbull will attend many of the high school awards ceremonies to present the scholarships. Interested seniors ...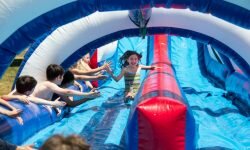 Ridgefield Academy's 15-foot water slide, The Patriot Plunge, is a highlight for campers. Sponsored Content:  ...
Spring isn't here yet. Spring is the season of rebirth and hope. I was reminded ...
Sign up for our Online Today email newsletter ➡
The list is growing! Join the hundreds of Easton, Redding and Weston residents who already receive our daily newsletter. You'll get the latest news, sports, events, features and much more delivered daily to your inbox from Aspetuck News.