Last week we changed the way we deliver our news content, in print and online, to the readers of The Easton Courier, The Redding Pilot and The Weston Forum. Readers of The Easton Courier, The Redding Pilot and The ...
Without new revenue for the state's Special Transportation Fund (STF), Gov. Dannel Malloy said the state would "postpone ...
All Easton, Redding, and Region 9 schools will be closed today due to the snow. All town offices ...
Pedestrian concerns are complicating the he South Park bridge replacement project in Easton. The lack of a sidewalk on a proposed replacement bridge and whether its extended length and guardrail might block access to existing trails raised concerns among several Easton Planning and Zoning Commission members during a recent hearing. The comments focused on the South Park Avenue bridge over the Mill River near Riverside Lane, which now is limited ...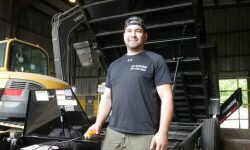 EZ Junk Removal owner Ezra Zimmerman drops off a trailer of junk at the Ridgefield ...
To the Editor: The heat is on!  On Monday, Jan. 15, we will celebrate with ...
Sign up for our Online Today email newsletter ➡
The list is growing! Join the hundreds of Easton, Redding and Weston residents who already receive our daily newsletter. You'll get the latest news, sports, events, features and much more delivered daily to your inbox from Aspetuck News.