When state Sen. Tony Hwang was two years old, his father left his home in Taiwan to come to the United States, settling in Chinatown. "He sent a paycheck home every month and worked in all varieties of labor," said Hwang, 53, adding his father has been an inspiration to him. "He set an example of sacrifice and commitment to his family." Hwang is running for re-election in the 28th Senate District, which is made up of Fairfield, Easton, Newtown and parts of Weston and Westport. He has been a state senator since 2014. A Republican, he is running against ...
Read more
Tankers from five fire departments were called today to the scene of a small brush fire on Route ...
The Easton Democratic Town Committee will hold a caucus on Wednesday, June 27 at 8:30 p.m. in the ...
Three Joel Barlow High School Students were recipients of awards sponsored by the Redding Republican Town Committee as part of JBHS Award Night on May 31. The students and awards given were: Julia Mullin – The Ronald Reagan Award for a member of the junior class demonstrating excellence in history and/or social sciences. Jack Warren – The Dwight D. Eisenhower Award for a member of the junior class demonstrating excellence in math and/or science. Molly Healey – The David A. Sanford Award for a student demonstrating commitment to Redding's Emergency Medical Services Chris Hocker, vice chair of the Redding Republican ...
Read more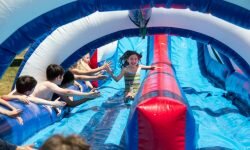 Ridgefield Academy's 15-foot water slide, The Patriot Plunge, is a highlight for campers. Sponsored Content:  ...
To the Editor: The Easton Board of Selectmen usurped the Town Meeting by denying the ...
Sign up for our Online Today email newsletter ➡
The list is growing! Join the hundreds of Easton, Redding and Weston residents who already receive our daily newsletter. You'll get the latest news, sports, events, features and much more delivered daily to your inbox from Aspetuck News.