Redding resident Robert Mars will discuss his book Futurelics: Past Is Present at the Mark Twain Library on Thursday, April 5. Nationally recognized artist and Redding resident Robert Mars will give a presentation featuring his latest work, Futurelics: Past ...
Tom Doherty, youth group director at St. Patrick Church in Redding, said he knows Larry Kudlow will do ...
Redding resident starts new job at the White House Maximizing growth of the economy is one of the ...
Saturday, March 24, 1 to 3 p.m. There will be a petting zoo to raise funds and awareness for Heifer International. All are invited to attend. Sunday, March 25, 10 a.m. Palm Sunday worship service open to all people. Thursday, March 29, 7:30 p.m. Maundy Thursday tenebrae service to remember Christ's last hours with a candlelight service. Sunday, April 1, 10 a.m. Easter morning worship, where all people are invited ...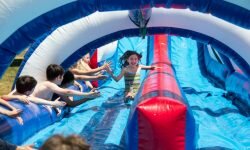 Ridgefield Academy's 15-foot water slide, The Patriot Plunge, is a highlight for campers. Sponsored Content:  ...
Spring isn't here yet. Spring is the season of rebirth and hope. I was reminded ...
Sign up for our Online Today email newsletter ➡
The list is growing! Join the hundreds of Easton, Redding and Weston residents who already receive our daily newsletter. You'll get the latest news, sports, events, features and much more delivered daily to your inbox from Aspetuck News.