The public is invited to the following events at the Congregational Church of Easton, 336 Westport Road. Memorial Day Worship Service, Sunday, May 27, 10 a.m. Computer Safety Class, Saturday, June 9, 3 p.m. Learn about computer and Internet safety, including social media safety. Cost is $15. For more information, call 203-261-2527. Vacation Bible School, July 9 to July 13. Games, crafts, skits for children 3 to 13 years old. Call 203-261-2527 to register or email
[email protected]
To help unwanted items find a new home, the public is invited to join the sixth annual Community ...
The Town of Easton Department of Public Works will be working on reclaiming the north end of Judd ...
The League of Women Voters of Weston is holding its 18th annual Betty Hill Forum on International Affairs at a luncheon on Friday, June 1, at noon at the Aspetuck Valley Country Club. There will be a lecture after lunch titled "Women Immigrants to America," focusing on the history of immigration to America throughout the years. There will also be a period for questions, answers and broad discussion. Dr. Virginia Metaxas will be the guest speaker. She is professor emerita of history and women's studies at Southern Connecticut State University. She also teaches immigration, social, medical, and Hawaiian history courses. ...
Read more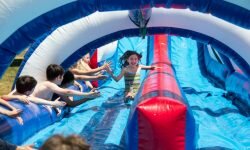 Ridgefield Academy's 15-foot water slide, The Patriot Plunge, is a highlight for campers. Sponsored Content:  ...
Robert F. Walsh Talk about a thankless job: There's no Hallmark card for guardian angels. ...
Sign up for our Online Today email newsletter ➡
The list is growing! Join the hundreds of Easton, Redding and Weston residents who already receive our daily newsletter. You'll get the latest news, sports, events, features and much more delivered daily to your inbox from Aspetuck News.