To the Editor: Imagine my non surprise when I read of Bob Ferguson's frivolous FOI complaint against the Board of Education in which he objects to the public disclosure of his letter addressed to the Superintendent of Schools. Much ...
Small Business Circle's group Behind the Business Card will discuss social media marketing, blogs, Facebook, and Instagram and ...
Archery, ages 7 and over Wednesdays, March 28-April 25, 6 to 6:45 p.m., five sessions Gaga Ball, ages ...
To the Editor: We'd like to thank all the individuals and local businesses who sponsored holes, donated silent auction items, and donated food and beverages for our "Links for Literature" Mini-Golf Fundraiser. Thank you, Alison Sternberg/Halstead Property, Aspetuck Valley Country Club, Bear and Grill, Caraluzzi's, CARMA for Life, Celebrate Connecticut, the Connecticut Golf Club, Easton Village Store, Friends of the Easton Public Library, Il Palio Ristorante, Jensen Tire, Auto & ...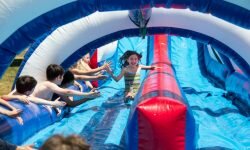 Ridgefield Academy's 15-foot water slide, The Patriot Plunge, is a highlight for campers. Sponsored Content:  ...
Spring isn't here yet. Spring is the season of rebirth and hope. I was reminded ...
Sign up for our Online Today email newsletter ➡
The list is growing! Join the hundreds of Easton, Redding and Weston residents who already receive our daily newsletter. You'll get the latest news, sports, events, features and much more delivered daily to your inbox from Aspetuck News.