Since she was in the sixth grade, 17-year-old Kaitlyn Siedman has loved the theater. "I think theater is always a great option for everyone," said Kaitlyn, of Redding, who will be a senior at Joel Barlow High School in the fall. "It creates a big family feeling and it's really good for self-confidence." Having worked for many years with special needs children, Kaitlyn wanted to make it possible for all students, regardless of their disability, to share in her passion for the theater. So, this year, she created Barlow's first Unified Drama show. With help from other students and mentors ...
Read more
There's always something going on at Viv's Veggies in Weston. Viv's Veggies farm stand in Weston is open ...
Cohane graduates from Ithaca College Callahan Cohane of Easton graduated cum laude with a degree in business administration ...
To the Editor: In a July 3 story in the Aspetuck News, Ira Kaplan referred to my response to his request to be appointed to the Easton Board of Selectmen. Below is my response. Statute 9-222 pushes the replacement process in the direction of replacing an outgoing selectman with someone from the same party. The BOS has 30 days to make a replacement, after that it goes to a committee of elected officials who belong to the same party as the outgoing selectman, in this case Republican. So, while I don't know the exact outcome at this point, that's the ...
Read more
Ben Landesman delivers a pitch during the Weston 12U all-star team's win over Stamford National on Monday night ...

The Weston 11-12 Little League team defeated Wilton, 15-4, to win the District 1 title on Friday night in Springdale. Weston will now advance to the Sectionals, which begin on Tuesday. Weston will face the District 2 winner, either Trumbull National or Fairfield American, on Tuesday at Salzi Park in Stamford at 7 p.m.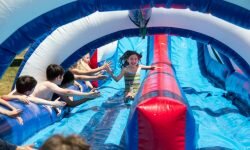 Ridgefield Academy's 15-foot water slide, The Patriot Plunge, is a highlight for campers. Sponsored Content:  ...
Lachat is "where it's at" in Weston these days. A vision has just about become ...
Sign up for our Online Today email newsletter ➡
The list is growing! Join the hundreds of Easton, Redding and Weston residents who already receive our daily newsletter. You'll get the latest news, sports, events, features and much more delivered daily to your inbox from Aspetuck News.