Among the Class of 2018 graduates from the Wooster School in Danbury, four students were from Redding and three were from Weston. Redding graduates are Ian McBrayer, Caitlyn Strauss, Qianchen (Messon) Ma, and Liam Weaver. Ian McBrayer and Qianchen (Messon) Ma were named members of the Cum Laude Society. Qianchen (Messon) Ma was also the recipient of the student Art Award. Weston graduates are Emily Glazer, Gib Shea, and Alexander Stein. Emily Glazer was the recipient of a Senior Independent Study Commendation, and the Donald G. Schwartz '36 Award for Excellence in 12th Grade English. Gib Shea was the recipient ...
Read more
The Congregational Church of Easton has been able to donate enough money to Heifer International to purchase two ...
The Mark Twain Library's summer reading program, Rock N' Read, will start on Monday, June 25. Children entering ...
Two Easton residents are looking into leasing Greiser's Store at the intersection of Center and Westport roads. Adrienne Jane Burke and Allison Taylor have approached the Planning and Zoning Commission, presenting a business plan and seeking guidance. No formal application has been submitted yet. At the June 11 P&Z meeting, Burke and Taylor asked Chairman Robert Maquat about what might be involved in an application and how long the process could take. A small group of neighbors attended the meeting to try to learn details about the future plans for Greiser's, which has a deli, gas station and sells some ...
Read more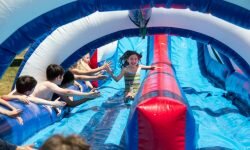 Ridgefield Academy's 15-foot water slide, The Patriot Plunge, is a highlight for campers. Sponsored Content:  ...
To the Editor: The Easton Board of Selectmen usurped the Town Meeting by denying the ...
Sign up for our Online Today email newsletter ➡
The list is growing! Join the hundreds of Easton, Redding and Weston residents who already receive our daily newsletter. You'll get the latest news, sports, events, features and much more delivered daily to your inbox from Aspetuck News.