Adam Dunsby Easton's Annual Town Meeting will be held Monday, April 30, at 7 p.m. at Samuel Staples Elementary School. The agenda is available on the town website. All items will be discussed at the meeting, but here is ...
It's almost time for the Memorial Day parade, a Weston tradition. — Bryan Haeffele photo Preparations are underway ...
Did you save your green flyer that came in the mail a few weeks ago? Please pay attention ...
At the Easton Planning & Zoning Meeting on Monday, April 9, in the Town Hall Conference Room, the following items were up for discussion and decision. Subdivision bond P&Z voted unanimously to reduce the subdivision bond on Adirondack Estates and River Ridge Estates from $77,100 to $31,400 based on most required work being completed. Developer Harold Rosnick has been pushing to have the funds returned, but Public Works Director and ...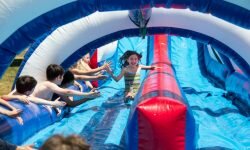 Ridgefield Academy's 15-foot water slide, The Patriot Plunge, is a highlight for campers. Sponsored Content:  ...
To the Editor: The Redding First Church of Christ, Congregational, has announced its annual Charity ...
Sign up for our Online Today email newsletter ➡
The list is growing! Join the hundreds of Easton, Redding and Weston residents who already receive our daily newsletter. You'll get the latest news, sports, events, features and much more delivered daily to your inbox from Aspetuck News.