A former Samuel Staples Elementary School custodian arrested for child pornography is scheduled to have a hearing on Thursday, April 12, according to court documents on Friday, March 16. David Habetz, 50, was arrested on June 22, 2017 by ...
Easton Fire Chief Steven Waugh issued the following statement on Friday warning residents about downed wires following the ...
State Senator Toni Boucher (R-26) issued a press release today saying proponents gloss over the details when promoting ...
First Church of Christ, Congregational Holy Week Schedule Palm Sunday, March 25, 10 a.m., Palm Sunday worship service with nursery care and Sunday school through eighth grade. Maundy Thursday, March 29, 7:30 p.m., Worship Service of Tenebrae and Holy Communion. Easter Sunday, April 1, 6 a.m., Easter Sunrise Service with Holy Communion, at 442 Rock House Road, Redding. Easter Sunday, April 1, 9 a.m. and 11 a.m., Identical Easter Sunday ...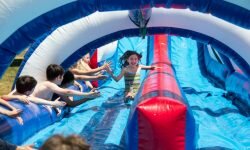 Ridgefield Academy's 15-foot water slide, The Patriot Plunge, is a highlight for campers. Sponsored Content:  ...
No, it isn't a lifestyle magazine in this case, filled with fitness, recipes, etc. March ...
Sign up for our Online Today email newsletter ➡
The list is growing! Join the hundreds of Easton, Redding and Weston residents who already receive our daily newsletter. You'll get the latest news, sports, events, features and much more delivered daily to your inbox from Aspetuck News.