How is Weston like Paris? I think there are quite a few similarities. One is that they are both beautiful places. Paris grew and developed over many centuries, though, while Weston initially grew for more like one century, starting in the 1700s, before shrinking in population rather dramatically, with the demise of industry. Yes, Weston once had industry, such as a mill and a toy factory. Fast forward to the end of World War II. Growth resumed as weekend residents built second homes here, and others who could not afford Westport settled in Weston. In the wilderness, defined here as ...
Read more
The Legal Voters in the Town of Redding, Connecticut, and those entitled to vote therein, are hereby warned ...
Lisa Cochran-Dougall was appointed as a full member of the Easton Agricultural Commission by the Board of Selectmen ...
To the Editor: Over two years ago, the Weston Dog Park Committee proposed there be a dog park in our beautiful town. I'm so excited that the residents and town of Weston have chosen to move forward with this wonderful new addition to Weston. Thank you to all of our supporters — your votes and encouragements have made this possible. Now that the land use offices and the Board of Selectmen have approved the location, we are ready to raise the funds to get the park built. Weston Dog Park Inc. has committed to raising $85,000 to build the park, ...
Read more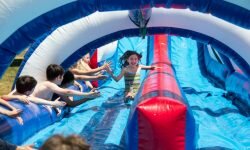 Ridgefield Academy's 15-foot water slide, The Patriot Plunge, is a highlight for campers. Sponsored Content:  ...
To the Editor: The Easton Board of Selectmen usurped the Town Meeting by denying the ...
Sign up for our Online Today email newsletter ➡
The list is growing! Join the hundreds of Easton, Redding and Weston residents who already receive our daily newsletter. You'll get the latest news, sports, events, features and much more delivered daily to your inbox from Aspetuck News.