Drew Klotz of Weston, a kinetic sculptor, is installing several of his wind-activated sculptures at Lachat Town Farm in Weston, 106 Godfrey Road West. Klotz's work can be seen worldwide in galleries and museums. The sculptures on display at Lachat are available for purchase, with 20% of the proceeds going to support the farm.
Redding Larceny On Saturday, June 16, at 8:20 a.m., an owner of a business on Main Street in ...
Foertsch named to dean's list at Siena College Clare Foertsch of Weston was named to the dean's list ...
Viv's Veggies Farm Stand in Weston will be open two days this weekend, Friday, June 22, and Sunday, June 24 from noon to 5 p.m. Fresh greens are currently available, with more crops on the way. Viv's Veggies Farm Stand is located at Chestnut Farm at 227 Lyons Plain Road in Weston. Follow Viv's Veggies at Chestnut Farm on Facebook.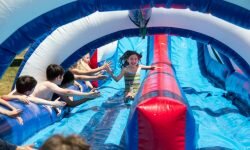 Ridgefield Academy's 15-foot water slide, The Patriot Plunge, is a highlight for campers. Sponsored Content:  ...
In an early episode of the popular TV sitcom Modern Family, Jay Pritchett reacts to ...
Sign up for our Online Today email newsletter ➡
The list is growing! Join the hundreds of Easton, Redding and Weston residents who already receive our daily newsletter. You'll get the latest news, sports, events, features and much more delivered daily to your inbox from Aspetuck News.