Saturday, March 24, 1 to 3 p.m. There will be a petting zoo to raise funds and awareness for Heifer International. All are invited to attend. Sunday, March 25, 10 a.m. Palm Sunday worship service open to all people. ...
Redding resident Robert Mars will discuss his book Futurelics: Past Is Present at the Mark Twain Library on ...
Tom Doherty, youth group director at St. Patrick Church in Redding, said he knows Larry Kudlow will do ...
Spring is here, and to celebrate, the Easton Public Library will host Egg Day on Wednesday, March 28. Children of all ages and their parents may drop by between 4 and 6 p.m. to decorate Easter eggs. Participants should bring their own hard-boiled, blown, or plastic eggs to dye or decorate. "I always looked forward to Egg Day at the library when I was a child," said Children's/Teen Librarian Elizabeth ...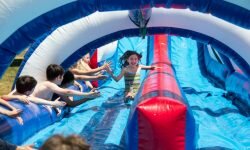 Ridgefield Academy's 15-foot water slide, The Patriot Plunge, is a highlight for campers. Sponsored Content:  ...
Spring isn't here yet. Spring is the season of rebirth and hope. I was reminded ...
Sign up for our Online Today email newsletter ➡
The list is growing! Join the hundreds of Easton, Redding and Weston residents who already receive our daily newsletter. You'll get the latest news, sports, events, features and much more delivered daily to your inbox from Aspetuck News.