West Redding firefighters are working to put out a large structure fire in Georgetown, according a report from the West Redding Fire Department. The fire, which was reported at around 10 a.m. Saturday, Feb. 24, is in a multi-family ...
The Redding Heritage Center will host a "Lunch 'n' Learn" on Monday, Feb. 26, at noon in the ...
Jodi Stevens Broadway veteran Jodi Stevens of Weston, who was in the original Broadway casts of Jekyll and ...
To the Editor: Last Monday evening, when I presented a petition signed by almost 120 Reddingites to reduce the size of the police force, I presented an analysis that showed a jump from 12 officers plus a leader in 2001 to 16 officers plus a chief in 2012. What could the justification have been? Everything points to the Gilbert & Bennett Wire Mill redevelopment, which, as we all know, didn't ...
Christian Watanabe takes the ball past a Bunnell defender during the Weston High boys basketball team's loss on ...
Joel Barlow seniors Amelia Blackwell, Kyle Andreoli, Alex Stillman, Sarah Witherbee, Molly Carroll, Kinsey Colby, Danny Brey, and ...
The 18th Annual Joel Barlow High School Lacrosse Pancake Breakfast takes place on Saturday, March 3, from 9 ...
With four wrestlers placing — and one of them winning his weight class — Joel Barlow finished 10th ...
Kate Joyce reaches up to snag the ball away from Bethel's Maranda Nyborg during the Weston girls basketball ...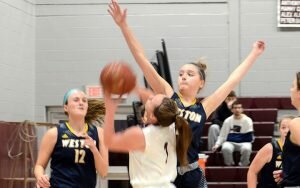 Georgie Burkard tries to block a shot during the Weston High girls basketball team's loss to Bethel last week. — J.B. Cozens photo The Weston High girls basketball team is seeded ninth for the Class M state playoffs, and will open the tournament next Monday at home (7 p.m.) against 24th-seeded Plainville (11-9). With a win, ...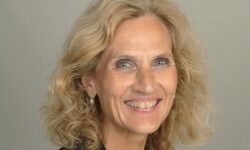 Sponsored Content: Anda Cumings, owner of A.E. Cumings CPA, specializes in tax preparation, accounting for ...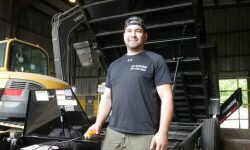 EZ Junk Removal owner Ezra Zimmerman drops off a trailer of junk at the Ridgefield ...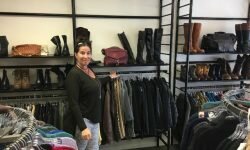 Danielle Melrose-Balasny, manager at Upscale Resale at Nine Bailey, said the store's inventory is selected ...
To the Editor: I am writing in response to the Feb. 5 article, "Weston selectmen ...
To the Editor: I just read a piece published in The Pilot which was written ...
To the Editor: Last Monday evening, when I presented a petition signed by almost 120 ...
Sign up for our Online Today email newsletter ➡
The list is growing! Join the hundreds of Easton, Redding and Weston residents who already receive our daily newsletter. You'll get the latest news, sports, events, features and much more delivered daily to your inbox from Aspetuck News.