Easton's Planning and Zoning Commission is almost ready to send out an updated draft of its 2018 Plan for Conservation and Development to other town agencies to be reviewed. The commission has 65 days until it must send out its draft of the town plan out to the agencies, according to P&Z Chair Robert Murat. The commission said it plans to send out the updated draft by Friday, July 27, and have decided on Oct. 1 as the prospective date for the next public hearing discussion for the town plan. Murat said the Oct. 1 session would consist mainly of ...
Read more
Photo of one of the men Redding police want to speak with in connection with an incident at ...
The Easton Police Department has issued a statement warning residents of "distraction burglaries." According to the release posted ...
The Redding Planning Commission is updating the Town Plan of Conservation and Development, which is an overall plan for the future development of the town.   According to Planning Commission Chair Toby Welles, members have been meeting weekly to go over the plan, and by the end of the summer they'll have chapters to send to various town bodies for their feedback.   One of the Connecticut General Statutes mandates a municipality update its plan every 10 years. Redding's was last updated in 2008. "Every town has a sort of plan that is used as a baseline for establishing an ...
Read more
The Weston 12U Little League team giving back as part of their success this summer.  The Weston 12U ...

The Weston Little League All-Stars will be back in action on Friday night at 7 p.m. — Scott Mullin photo The Fairfield American Little League All-Stars defeated Weston, 1-0, on Wednesday night at Scalzi Park in Stamford. Weston will face Lou Gehrig of Milford in its next Section I game on Friday night at 7 p.m. ...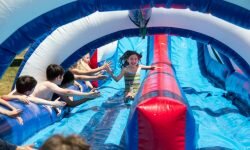 Ridgefield Academy's 15-foot water slide, The Patriot Plunge, is a highlight for campers. Sponsored Content:  ...
Hi readers and residents of Easton, my name is Aaron Berkowitz and I will be ...
Sign up for our Online Today email newsletter ➡
The list is growing! Join the hundreds of Easton, Redding and Weston residents who already receive our daily newsletter. You'll get the latest news, sports, events, features and much more delivered daily to your inbox from Aspetuck News.