A man who lived with the family of a former school board member was sentenced Tuesday to 35 years in prison for sexual assault of a minor. The case also involves charges against that former school board member and her husband. Stephen Overby was sentenced at state Superior Court in Danbury to: 23 years of jail time, suspended after eight years, with 20 years probation, for sexual assault of a victim less than 13 years old; seven years of jail time, suspended after five years, with 20 years probation for illegal sexual contact with a victim less than 16 years ...
Read more
Connecticut residents will receive free or discounted admission or special offers at more than 225 destinations across the ...
The Department of Consumer Protection (DCP) is encouraging consumers to be on the lookout for scams as they ...
The "aye" vote was unanimous at a May 21 Easton town meeting to approve a $400,000 appropriation that will cover the school department's shortfall in the area of health insurance claims. Between 80 and 100 people showed up at Samuel Staples Elementary School to cast their voice votes that overwhelmingly supported appropriating the money from the town of Easton's fund balance. "I was very pleased with the turnout," said Easton Board of Education Chairman Jeffrey Parker. "I'm glad we can move forward and continue to evaluate the medical plans and come with what's best for employees and the town." The ...
Read more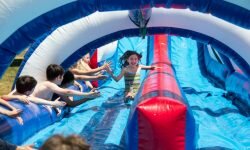 Ridgefield Academy's 15-foot water slide, The Patriot Plunge, is a highlight for campers. Sponsored Content:  ...
To the Editor: The Redding Garden Club thanks the town for supporting our annual Plant ...
Sign up for our Online Today email newsletter ➡
The list is growing! Join the hundreds of Easton, Redding and Weston residents who already receive our daily newsletter. You'll get the latest news, sports, events, features and much more delivered daily to your inbox from Aspetuck News.