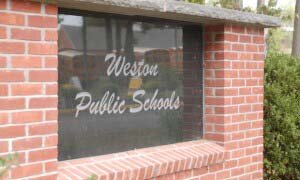 In the wake of the school shooting that left 17 people dead at Marjory Stoneman Douglas High School in Parkland, Fla., Weston Superintendent William McKersie released a five-page memorandum outlining the district's safety and security measures.
The memorandum, released on Monday, Feb. 19, lays out the district's specific safety resources and discusses how to address the "root causes" of the issue with students.
"Let me state in the clearest and simplest terms that the Weston Public Schools are among the safest in the region and nation," said McKersie. "The safety and security of Weston students and staff has been the highest priority for the Board of Education, superintendent, administration, and town leaders for many years."
According to McKersie, the district has "extensively evaluated" security needs over recent years and has put in place a variety of "enhancements" for the district.
McKersie touts a "strengthened relationship" with the Weston Police Department, including an "increased police presence" on campus.
In addition to Weston School Resource Officer Joe Mogollon and the Mile of Safety officer, McKersie explained, Weston police are often "invisible but immediately available."
Weston police Chief Edwin Henion said that in the short term, Weston police plan to "enhance visibility" at the school campus for the coming weeks.
According to Henion, Weston's police officers are "fully trained in managing active shooter scenarios" and they receive "regular updates" to this training.
Henion said that each officer has a deep knowledge of the buildings in the school system and added that he and Capt. Matthew Brodacki attend quarterly safety meetings to ensure school safety.
Other safety measures
McKersie said the schools recently installed high-definition security cameras at all four of the schools that provide "full interior monitoring coverage."
Administrators and safety specialists have access to all camera views throughout the day, according to McKersie.
In the upcoming Board of Education budget, there is a proposal to reduce the number of full-time security specialists at Weston Intermediate School and Hurlbutt Elementary School from two to one.
The high school and middle school will maintain their two full-time security specialists.
"The new interior cameras allow for greater monitoring of our buildings. The security specialist team manages the safety of the building efficiently and in close coordination with other security resources during emergencies," said McKersie, who again touts the increased relationship between the school district and the Weston Police Department.
According to McKersie, "many area districts do not have security specialists at their elementary schools and none have more than one."
In addition, the operational security budget will be $170 per student in the upcoming fiscal year, compared to an average of $80 per student in area districts.
Connections
McKersie said that developing connections between the students and a variety of staff members is the best way to ensure that all students are shown respect.
"We insist that all students are known well by at least several professionals," said McKersie. "Over the past 18 months of my tenure, I have been repeatedly impressed by the depth of understanding that we have for each student, and especially when we are dealing with a student or family in crisis."
According to McKersie, Weston has invested "substantially in the professional capacities and orientations essential to effective connections."
"The district has a full complement of counselors, psychologists, behavioral specialists, social workers, and external partners working in-district as resources," said McKersie. "We also have invested in professional training for all staff in several proven behavioral and emotional support systems."
"Very few districts," according to McKersie have the "wealth" of professional talent that Weston has, but ultimately, the district relies on a policy of "if you see something, say something."
"We are well-staffed, and deeply committed to healthy connections, but we cannot see or know all situations that may be leading a student or family to crisis," said McKersie. "We must have Weston residents and community members tell us when they see potential problems."
While the school district is taking steps to ensure that there is never a violent situation in Weston, it also plans to work with students to hear their thoughts about the school shooting in Parkland.
"For our older students, we will be ready to raise the topic and help students deal with emotions and fears, and determine how to address the root causes," said McKersie. "I know many Weston High School students are joining in the social action movements emanating in the wake of the South Florida shooting. As educators, we will take this critical opportunity to guide students to well-reasoned civic engagement."
McKersie concludes the memorandum by acknowledging that many students, staff and family members are "understandably" unnerved by the "increased incidents of gun violence in our schools."
"Even in light of these horrific shootings, it must be remembered that schools remain the safest locations for young people," said McKersie.
A full copy of McKersie's memorandum is available at Westonps.org.