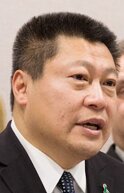 Despite state Sen. Tony Hwang's agreement last week to stop using the logos and graphics of two nonprofits on his campaign materials, Fairfield Democratic Town Committee Chairman Steven Sheinberg said he's still "very disappointed" with Hwang's actions.
On Aug. 22, Cathy Curley, vice chairman of the Fairfield Democratic Town Committee, issued a press release stating that Hwang has committed copyright infringement.
Curley wrote that copyrighted materials from two nonprofit organizations — Ben's Bells and the Hate Has No Home Here project — have been found on Hwang's campaign materials, "including on yard signs, T-shirts, and digital advertisements."
"Because endorsement or support of any political candidate is not permitted by 501(c)(3) organizations, Senator Hwang's actions could put the tax-exempt status of Ben's Bells, a 501(c)(3) organization, at risk," the release said.
Hwang, a Fairfield resident, is running for re-election in the 28th Senate District, which is made up of Fairfield, Easton, Newtown and parts of Weston and Westport. He has been a state senator since 2014. A Republican, he is being challenged by Democrat Michele Lapine McCabe.
In the release, Sheinberg said he was considering filing a complaint against Hwang with the State Elections Enforcement Commission, but has since decided not to do so.
"Given that Senator Hwang has admitted his unauthorized use of copyrighted art and slogans from two nonprofits and has begun making efforts to remove the campaign materials in question, we will not be pursuing a complaint with the SEEC," Sheinberg said.
However, Sheinberg added Hwang's comments in regard to using the copyrighted material was "dismissive of the seriousness of his actions."
"We were very disappointed, however, to hear the dismissive tone of Sen Hwang's response to these complaints," Sheinberg said. "Whether an organization is one with a positive message or not, using their intellectual property against their strict usage guidelines and 501(c)(3) regulations is unacceptable."
James Millington, chairmen of the Fairfield Republican Town Committee, said the DTC is "blowing this out of proportion."
"It was a mistake that Tony made to use the copyright part of the material, but he has apologized for it and has corrected the mistake," Millington said.
Hwang "really believes" in the message of the nonprofits and "all he was trying to do is set a positive tone for the campaign season and a political climate that on both sides of the aisle has become very nasty, both locally and nationally, over the past couple of years," Millington said.
The Democrats "are making it sound like these nonprofits are terribly injured by this mistake and they weren't," Millington said. "The response of the nonprofits have been nothing but cordial and everyone has moved on from this, except the DTC."
Millington stated the Democrats have been attacking Tony "relentlessly."
"Instead of talking about the issues, they are trying to go after little technical campaign mistakes he has made over the years," he said.
Furthermore, Millington said the climate in Fairfield among "not all Democrats but just a handful of them has been very "attacking" and "it's just sad to see."
"I think that if you ask a voter if Tony's mistake on the lawn sign going to affect your overall opinion of him, 99% won't even know what you're talking about," Milligan said.
He added it "just boggles your mind" that such positive statements could generate so much negativity from the Democrats.
"What this campaign needs to be talking about is the virtues of the candidates on the Dem side and the Rep side, and stop these senseless personal attacks," Milligan said.
In response, Sheinberg said, "it's not a personal attack."
"However, it is Senator Hwang that violated the trust of these nonprofits," Sheinberg said.