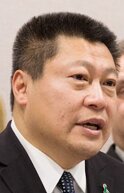 Senate Republican Assistant Majority Leader Tony Hwang (R-28) released the following statement regarding Gov. Dannel P. Malloy's budget proposal:
"The assortment of burdensome and job-killing tax hikes that Gov. Malloy has announced should challenge every taxpayer to take action.
Gov. Malloy's following budget changes unfairly punishes Connecticut residents:
Does not restore funding for the Medicare Savings Program

Makes cuts to municipal aid

Rejects the new Education Cost Sharing formula that fairly distributed funding for the first time in decades to schools based on need, population, poverty and other factors

Penalizes job creators with tax increases, while the national effort is focused on reducing burdens on job creators in other parts of the country

New tax on nonprescription drugs
New tax on low income working families and elderly individuals by eliminating the $200 property tax credit
Higher taxes on retirees by eliminating newly passed tax breaks on social security and pension income

Hurts the housing market by increasing real estate conveyance taxes

New tax on car tires

An increase to one of the highest gas taxes in the country
Introduces tolls with no understanding or details of locations or the cost to Connecticut resident

Increases hotel tax
Don't want tolls every mile? Speak out.
Don't want new taxes on medicine? Speak out.
Don't want higher gas and property taxes? Speak out.
I will work with Republicans and any willing Democrats to protect taxpayers from being gouged yet again by this outgoing governor and the escalating cost of state government. We need to be honest and transparent in our budgetary process and everything in state government needs to be evaluated and re-assessed. And it must also include re-negotiation of the recently passed state employees labor agreement (SEBAC) — if we are considering tolls, taxes and municipal and education cuts. Legislators, state employees and governmental services needs to step up and share in the sacrifice as well.
We don't have a revenue problem in this state. We have a government spending problem.
The solution is not seeking out more revenue from taxpayers' wallets. We need to re-prioritize and rationalize how every single taxpayer dollar is spent.
We need to create our budgets just like families create their own household budgets throughout Connecticut.
Hurting the most vulnerable and at-risk residents and cutting education and municipal funding while maintaining an unsustainable and inefficient government bureaucracy is unacceptable. Extracting still higher taxes and having the most tolls and onerous gas tax in the nation without a disciplined approach to re-inventing government is not the way forward. If you agree, then light up the governor's email at [email protected] to tell him how much you disagree with his vision for Connecticut. And cc me at [email protected].
Let's fight this fight together. If we all come together, we will win this fight and send a clear message to the governor.
Please urge friends, neighbors and co-workers to get vocal as well — the governor needs to hear from all of us."
Sen. Hwang represents Easton, Fairfield, Newtown, Weston and Westport.