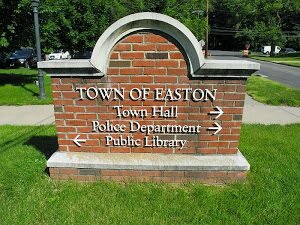 The Easton Planning & Zoning Commission discussed whether a village center would be appropriate for Easton's future, as well as how it might evolve, and if current residents would want it, at its Sept. 5 meeting.
The area that was discussed is along Route 59 (Sport Hill Road) where it intersects with Center Road. The commission identified as a priority pursuing improvements that link amenities that already exist. One proposal under consideration is the construction of a walking path or sidewalk between Silverman's Farm and the Easton Country Store — both of which have proved to be strong draws for out-of-town day trippers and other visitors to the town.
"There already are other activities on the Green, such as the Fire Department Carnival held each summer," said P&Z Chairman Robert Maquat. He said attendees at such events would also benefit from improvements such as sidewalks and streetscaping along Route 59.
The creation of an identifiable town center in Easton could also enhance real estate values. Alternate commissioner Alison Sternberg said average values in Easton are still down 20% from their height in 2005 — a trend in neighboring towns as well.
"We are selling more houses but overall values are still down," she said. "People perceive a home in Easton as being a good value, but most sales are in the category below $500,000. They're getting good buys."
Surveys of new homebuyers have indicated a preference for walkable communities, and any improvements that enhance safety and facilitate walkability in the town center should be encouraged, Maquat said.
"People look at this as us trying to open up [Easton for development]," he said. "But we're really trying to better control what we have."
Other discussion at the meeting concerned parking along Route 59, with commissioner Wallace Williams saying that such parking poses traffic hazards and alternate commissioner Ross Ogden saying the opposite is true.
"My understanding is that parking on the street acts as a traffic calming measure," Ogden said. Coupled with speed-limit reductions, this could actually make the area of the town center safer, he added.
Changes in store?
Among other matters, the commissioners touched briefly on alterations that have been proposed for Greiser's Store and Deli. The establishment, located at the intersection of Center Road and Route 136 (Westport Road), has been run by the same family since 1926. Current owner Richard Greiser tentatively plans to retire, and Easton residents Adrienne Jane Burke and Allison Taylor have proposed leasing the store from him.
Under that proposal, no changes would be made to the store's overall footprint. It would be classified as a slight business "intensification," in that it would likely be open seven days versus the current six. "There would be no need for a new permit," said Maquat.
The commission also discussed the construction of a new ballfield at Morehouse Park. This has been proposed to accommodate the park's growing use by sports leagues in Easton as well as other towns.
The area proposed for the ballfield is currently used by Easton's public works department as a staging area for equipment. A new location would be needed and the equipment would have to be moved before any construction takes place.
"Right now, this is just preliminary," said Maquat, noting that the town's Recreation Department's plans call for Morehouse Park to be developed in a number of successive stages. He urged fellow commissioners to visit the park to survey the area under consideration.
Several opponents of development in Easton attended the P&Z meeting. Jeff Becker of Cedar Hill Road said most of the town's land consists of watershed for rivers and streams — and as such, is inappropriate for further development and denser population.
"You could not build a large corporate facility in Easton because we don't have the services to support such a structure," he noted. "And, in order to bring them in, our taxes would have to go up."
"There has never been a town center in the history of Easton," Becker said. "The townspeople of Easton have been very clear — they don't want a town center here and the Planning & Zoning Commission should not be pursuing this."