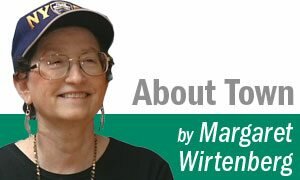 You can feel it. Summer vacation is in the air. Just a couple more weeks.
Of special note is that living in Weston in the summer is a vacation in itself. But sometimes it can be a more peaceful vacation than at other times.
One reason for that is it can depend on construction that might be on the schedule for schools or at the municipal complex on Norfield Road. For example, this summer such activities will be occurring. While they will not be visibly or audibly evident to most Westonites, they may be to some who live near the intermediate school.
During many summers here, though, it is so peaceful it seems as if everyone in town has fled.
Thanks to our informative town website, we can all be aware of potential traffic delays during the coming months. On Old Easton Turnpike, Michaels Way, Old Stagecoach Road, High Acre Road, and Hedgerow Common. These streets will be closed for repairs and repaving at times between now and the end of July, to make them as good as new.
Summer is a time for landscape painting, especially if you live in Weston. Thanks to our busy Beautification Committee, the town hall complex is a good place to set up your easel. And don't forget to check out the floral displays around the Onion Barn. In the past, these locations have provided me with great artistic opportunities.
And then there is the opportunity to enjoy Weston's natural beauty while getting in some valuable exercise at the same time. This is a secret to the Aspetuck Land Trust's success.  A.L.T. has properties that your dog can enjoy, as well. Although some may live close enough to these properties to walk to them, one can drive and park as well.
A quick review of sites around town brings back memories. In years when subdivision of large properties was common, Aspetuck Land Trust worked closely with our Planning and Zoning Commission. The 10% required open space "set aside" in its regulations was put to good use as A.L.T. expanded its portfolio of properties.
Many of these subdivisions took away large parcels that seemed to be "open space" but weren't.  These were either on land that was vacant and virgin, or on large estates on many, many acres, with a main house and outbuildings.
Of A.L.T.'s 16 preserves in Weston, as listed on its website, I can recall that almost half related to subdivisions. Others were traditional gifts. Some have been outright purchases.
Together with town-owned properties and those of other organizations focusing on open space, these properties form a green garland draping itself across Weston. Connecting these natural spaces, as well as our major parks and fields, has always been a gleam in the eye of our boards and commissions whose purview is land use.
If memory serves, such linkages were first proposed in the Dominski-Oakrock Study of 1976.  The idea was to develop the yet undeveloped parcels in such a way that those traveling on foot, either two of them or four, could navigate throughout Weston.
Now that's what I call planning!
"About Town" is also a television program. It appears on Fridays at 5:30 p.m. and Saturdays at 10 p.m. on Cablevision Channel 88 (Public Access). Or see it at www.aboutweston.com.