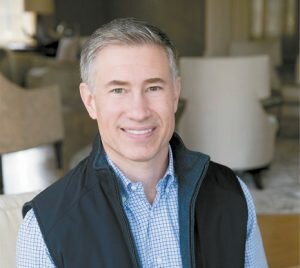 David Stemerman of Greenwich started his own business in January 2008.
Immediately, he faced "the worst financial crisis in 70 years."
Steering his company through that and beyond, he said, gave him the experience needed to get Connecticut through its current fiscal crisis.
Stemerman is one of four candidates in the Aug. 14 Republican gubernatorial primary, along with endorsed candidate and Danbury Mayor Mark Boughton, former Trumbull First Selectman Tim Herbst and businessman Bob Stefanowski. Stemerman and Stefanowski opted not to participate in the Republican convention.
"I view that the qualities of leadership that were needed in order both to make it through that crisis and to grow the business are exactly in the kind of qualities that we need in the state," Stemerman said.
He outlined key things that are important, the first of them being "the ability to make tough decisions. Coming right out the gate we had to make tough decisions. It was a horrific financial environment and what we learned before didn't necessarily apply. We needed to understand what was going on. We needed to adapt, we needed to make tough decisions. And our state is facing incredibly tough challenges today, as we all know."
Stemerman promotes himself as a political outsider, and has eschewed public campaign funding.
His hope is that voters see someone coming in from outside the political realm that will bring a new perspective to Connecticut and improve its economic climate.
"We were able to see opportunities others could not," Stemerman said. "In the investment business, if you're seeing what other people are seeing … "
"I view that we have tremendous potential," Stemerman said of the state, calling Connecticut's location, workforce and affordability "competitive advantages."
As he says in his campaign advertisements, "We need someone with an out-of-the-box approach."
Stemerman is taking a different route to the primary.
"I only closed my business and put my family through this because I expect to win," he said. Going through the convention was not the route to success, he said.
"Three people made it through the convention," Stemerman said. "All of them have been running for office since 2012."
While known to the party faithful, Stemerman said his Republican foes are not commonplace across Connecticut.
Still, he said, while running as an outsider and using different tactics, being part of a party is crucial.
"My goals and world view are shared with the Connecticut Republican party," he said.
"For a practical matter, I find it very hard to believe that anyone could win the governorship without a party affiliation without being known," he said, adding that Lowell Weicker won his independent bid for governor and Joe Lieberman his unaffiliated run for Senate because they already carried the necessary name recognition.
"They may have been at this for a long time," Stemerman said of the current Republican field, "But they're not well-known. There's not a built-in advantage for incumbents."
But opting out of public financing, Stemerman is free to contribute as much as he wishes to his campaign. That has opened him to being portrayed as a wealthy Fairfield County businessman who does not understand the rest of Connecticut.
"This house was not handed down to me," Stemerman, who grew up in Newton, Mass., said when asked about comments counting the number of bathrooms in his residence. "The money I have, the business I have, I have earned through my hard work."
Reviving the financial health of Connecticut is "going to be horrifically difficult," Stemerman said, and begins with difficult discussions with the state's retirees.
Connecticut, he said, has a $100 billion unfunded retirement liability he said. While the average state spends $1 for every $10 in tax dollars collected, Connecticut spends $3 of every $10.
State employees who were promised retirement benefits face the prospect of getting at best some of what they were expecting.
"It's a miserable, horrible thing to say to our state employees," Stemerman said.
He proposes as a negotiated agreement under which state retirees would not receive all of what the state was contractually obligated to pay, but more than they would if the state retirement fund ran out of money.
"We laid out a proposal on this," Stemerman said. "These retirement benefits can't be reformed, they need to be restructured, where we say, "We can't pay 100 cents on the dollar, but we can do better than 30 cents on the dollar.'"
If state unions did not agree to such changes, Stemerman said he could invoke the 11th Amendment of the U.S. Constitution and, in an emergency, unilaterally restructure the retirement packages and lay off workers.
"It's not a power you want to exercise because it's always best to reach a negotiated agreement," Stemerman said. "But the other side needs to realize the state can."
Stemerman said he would bring in business experts for such changes, comparing the situation to the fiscal difficulty once faced by the Big Three U.S. automakers.
"We should think about this as being like a large corporation that put in place in the past a series of rich retirement packages that it simply cannot afford," he said.
Once those packages are restructured, "Then the business can come on and grow again. Automakers are growing again, and that allows them to make money again, and that's how they pay for benefits," he said.
Once the solvency of the state's retirement fund is addressed, Connecticut must again be made attractive to business.
First, he said, taxes must be cut.
"The current tax rate is a loser," Stemerman said. "We lose people and we lose businesses."
While saying that the state income tax cannot be eliminated, as some call for ("There's no way you can get the numbers to work"), Stemerman said cut the number of tax brackets from seven to three, and eliminate the state's succession, or death, tax.
Stemerman also touts a transportation plan, saying Connecticut spends $425,000 per mile of road, compared with a national average of $180,000 per mile.
"The amount of money we're spending is so utterly inefficient," Stemerman said.
He proposes attracting private investment in roads, railroads and airports, including transforming Sikorsky Airport in Stratford into a regional facility. His plan includes speeding up trains, cutting the trip from New York to Stamford to 30 minutes, New York to New Haven to 60 minutes, and adding one or two lanes to I-95 in which the direction can be reversed to accommodate rush hour traffic.
Once private business has invested in transportation, then they would focus on building retail and restaurants as the population moved to an area with an efficient transportation system close to New York.
"Different things will take different amounts of time," Stemerman said. "Having the private sector involved will make it faster."
Brooklyn has been revitalized, and Stemerman said he has been told the financiers behind that are looking for the next project.
"If you get in on the ground floor … ," Stemerman said.
"If you are a real estate developer, the thing you want more than anything is one of these transportation projects," he added.
Stemerman said the state needs to prepare a workforce to support manufacturing, once an industry upon which Connecticut was built. The need is there, he said, after a visit to Platt Tech in Milford, where administrators told him the demand for 2,000 openings for students is there, but only 800 are funded under the state's education formula.
"For a place like that, we should be filling this place up," Stemerman said.
He also praised private Goodwin College, which he said is providing vocational training cheaper and more efficiently than the state is.
He envisioned manufacturers choosing sites, getting the necessary permits and working with local schools to provide vocational training tailored to the industry.
"It's then the hub of all this activity," he said. "You need restaurants, you need stores, you need movie theaters."