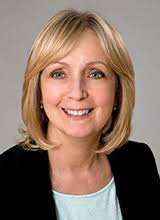 Barbara Reynolds of Weston has been appointed chairman of the Westport Weston Chamber of Commerce.
The Chamber's mission is to support and foster businesses of the Westport-Weston community. The appointment of Reynolds follows previous Chairman Paul Lebowitz's decision to step aside after he was elected as chairman of the Westport Planning and Zoning Commission.
Reynolds, a 25-year resident of Weston, is a Realtor with Halstead Real Estate in Westport and has been a board member of the Chamber for more than two years. She currently serves as an alternate on the Weston Board of Assessment Appeals, and on the Weston Panel of Moderators.
She is a member of the Greater Fairfield County CMLS, National Association of Realtors, Connecticut Association of Realtors, and Mid-Fairfield County Association of Realtors.