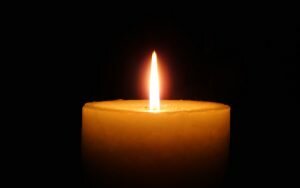 Han van Oostendorp, age 94, of Redding, passed away on Tuesday May 1, 2018 at Norwalk Hospital.
Han, many knew as "Opa" was born November 19, 1923 in Rotterdam, Netherlands. A son of the late Mr & Mrs. Johannes Jocobus van Oostendorp. He grew up in the Netherlands and moved to the United States in 1951.
He was a Professional Engineer for his career. Han was a non-combatant prisoner of war and escaped the German work camp, making his way to England to become a Spitfire pilot with the RAF. He served most of his aviation career flying Spitfires in Indonesia with the Royal Dutch Air Force.
He was also an accomplished sailor and sailboat owner sailing with Edith well into his late eighties. He loved nothing more than being out on the water or skiing (a member of the 80+ ski club of Vermont), especially on family vacations with his grandsons growing up. He was a great supporter of youth sports in Redding, attending many meetings to push for the turf field at Joel Barlow High School.
Han is survived by his wife Edith van Oostendorp, his son Ronald Han van Oostendorp and his wife Christy of Redding, CT, a grandson Kyle Jeffrey van Oostendorp and his wife Ann and their two children Greyson Jeffrey van Oostendorp and Riley Claire van Oostendorp of Manchester, NH, a grandson Corey Han van Oostendorp of Redding, CT, a sister Pien Roosegaarde Bisschop of the Netherlands and many nephews and nieces overseas.
Donations in Han's memory can be sent to: The Cooper Union (his alma mater), The Cooper Union, 30 Cooper Square, 8th floor, New York, NY 10003, or mail a donation to the Wilmer Eye Institute (Johns Hopkins): Libby Bruce Bell, The Wilmer Eye Institute, Wilmer Development Office, Wilmer 112, 600 North Wolfe Street, Baltimore, MD 21287-9015.