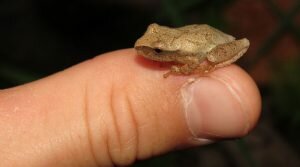 Programs at New Pond Farm in Redding.
Peeper patrol
Friday, April 20 and Saturday, April 21, 7 to 8:30 p.m.
New Pond Farm members are invited to grab a flashlight and join in the search for amphibians. This annual event is great fun for the whole family.
Spring astronomy
Saturday, April 21, 8 p.m.
Join astronomy volunteers and gaze through telescopes at the moon, saturn, and deep space objects. Families are invited to a special preview in the Learning Center classroom at 7:30 p.m.
Summer camp
New Pond Farm has a summer camp program for ages 8-12. Form friendships with residential campers while eating fresh food from the garden and dairy, swimming in the pool, and enjoying games and activities.
For costs and to register for programs, visit newpondfarm.org or call 203-938-2117.