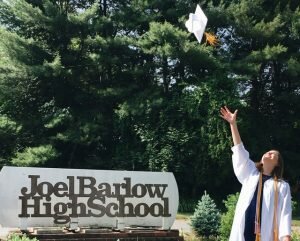 Senior year of high school often passes by in a blur as students take their final tests, plan their prom and graduation, and look toward college or the workplace.
Several Joel Barlow High School graduates took some time to reflect on their past year.
"There was an awesome sense of community when we were preparing to graduate from Barlow," said Cole Straughn, of Easton. "I felt I was connecting with my peers. We realized when we turned 18, it changed our perspective. We only have a year left. We'd be gone forever from this childhood."
Cole said he didn't know what to expect when senior year started, but he "wanted to solidify 'me' as a person."
Pressure mounted in the fall when he and his classmates sent out college applications, completed "Barlow-level" schoolwork, held jobs outside of school and participated in extracurricular activities.
Cole served as a lieutenant of the police cadets in Easton, was a co-captain of Barlow's cross-country team, was a National Honor Society member and received a diploma of distinction.
He'll attend Wake Forest University in North Carolina in the fall.
Receiving the honors gave him a "sense of accomplishment and pride," he said, and he especially valued "leading some really fine young gentlemen" on the cross-country team.
Contradictions
The school year posed contradictions for Cole.
"Sometimes I would say, 'Man, I can't wait to get out of here,' but in the long run it was the most adult time I ever had. This is what life is like."
He said he noticed a difference in his classmates as the year progressed.
"A lot more people were more confident and excited about the future," he said.
"Outside of school, a lot of people were getting involved socially and were getting jobs. We realized we were adults, but also that as a class, this was the final year."
Cole said he was most impressed by classmates Luca Cerbin and Michael Klein-Wassink, who co-founded the local Safe Rides program, designed to provide students with safe rides home from social events.
"They provided hundreds of rides," Cole said.
He said the best times of the past year were "when I felt happy where I was. It was the epitome of maturity. I was breaking out of my shell. Barlow will always have its issues, but it really has done a great job establishing an awesome community and preparing us for the world."
Bittersweet
"I can't believe we just graduated, and I find everything about it so bittersweet," said Easton resident Mackenzie Wenzel. "While I know I'm ready to move on to bigger and better things, I know I'll miss the teachers and classmates I'm leaving behind. And I don't want to take this close knit community — the only kind of community I've known — for granted as I enter a much larger community and the world at large."
Senior year is "an emotional roller coaster like no other," she said, and she also experienced the stress of applying to colleges.
"I lost myself in the college process," said Mackenzie, who will attend Villanova University's school of business in the fall. "It was a year of introspection."
Things got better for Mackenzie after May 1, which was college decision day.
"Everyone was at ease and friendly," she said. "Everyone was happy for each other. We weren't competing with each other."
Senior year "brought us back together," she said, and the first day of school stood out for her because all seniors wore the class T-shirt. It was emblazoned with the catchphrase "Can't kill our vibe" spelled out as "v18e," incorporating the graduating year.
For Mackenzie, the March 14 Joel Barlow student walkout in memory of students and teachers killed in Parkland, Fla., was "a turning point."
"I saw people who weren't vocal speaking up and expressing their opinions," she said. A goal of the walkout was to promote student activism and for students "to think independently about solutions."
Mackenzie won a Western Connecticut Superintendents Association student recognition award for her work coordinating the walkout, and the event led to 41 Barlow students registering to vote, she said.
She served as student council president for three years and was a member of the chorale and the music honor society.
Barlow student Stephan Dow said he appreciated how the teachers "pushed us" to complete college level work, although the workload was challenging and time-consuming.
Stephan plans to major in mechanical engineering at Clarkson University in Potsdam, N.Y., and he said his preparation would help in the fall.
"Students need to have as much college-type experience as possible," he said. "A lot of people glorify senior year, but that discredits the amount of work we do."
Stephan took three AP courses and was a member of the cross-country and outdoor-track teams.
"Senior year has prepared me for college well," he said, but he'll miss his high school classmates.
"I had a lot of good friends," he said. "Leaving is bittersweet. "It's hard leaving Easton. I have a lot of roots here."
Teresa DiStefano said the Joel Barlow graduation ceremony felt "unreal. It hit me that we were graduating," she said, especially during the speech by classmate Finn Navin, who spoke in the format of the daily announcements he gave throughout the school year.
Instead of ending with the words "Have a good morning," he ended his graduation speech with the words, "Have a good life," Teresa said. "I felt like I was transported," she said. "I was right back in the classroom."
She said that mood changed for her when second semester started in January.
"The workload decreased and I was able to do a lot more for the school, go out with my friends and enjoy more of it," Teresa said.
She served as class secretary and helped organize the class prom at Anthony's Ocean View in New Haven and Powder Puff football games.
She also participated in the student walkout in memory of the Parkland, Fla., shootings.
"It was nice to see the walkout unfold," she said.
Challenges of her senior year included "trying to balance work with applying to colleges."
Teresa, an Easton resident, will attend the University of Connecticut in the fall.
Looking back on the past year, Mackenzie has a message for incoming Barlow seniors and seniors in future years.
"Enjoy the ride," she said. "You will get out of high school. Enjoy the time you're here."