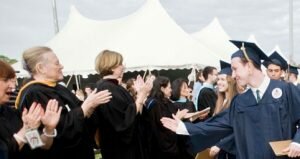 Following years of tradition, there will be an outdoor graduation ceremony again this year in Weston.
The school administration had initially cut the cost of the graduation tent rental from its budget and planned to hold the ceremony inside the high school gym. But parents and students circulated a petition asking for the ceremony to remain outdoors.
When that request was denied, they offered to pay $21,500 for the expense of the outdoor ceremony ($15,500 for tent setup, take-down, and lighting; $3,200 for overtime costs for security, custodians, site preparation, and cleanup; and 15% contingency).
In just four days, the group raised the total amount on a GoFundMe page, and presented a $21,500 check to the Weston Board of Education last Friday. This ensures that the graduation  ceremony, scheduled for Friday, June 22, will be held outdoors next to the high school under a large tent, rain or shine.
Weston parent Laura Schlossberg helped organize the fund drive and was relieved by the results. "I think there are mixed emotions. The sense of community this generated was palpable and heartwarming. Clearly there was strong support for an outdoor ceremony. But at the same time, I think this situation was avoidable. Collaboration and transparency are best when making decisions on issues that are passionately felt by the community," she said.
Schlossberg was disappointed that the ceremony's location had initially been changed without input from parents and students, and she said she hoped that in the future there would be better communication.
The school administration has since announced that it plans on setting up a Graduation Committee in the fall to decide on the venue for the 2019 graduation ceremony.
"Whatever venue is decided upon each year, I hope we can still maintain a sense of tradition, but at least now there will be sufficient time to fully vet the viability of all options and properly budget and plan," Schlossberg said.