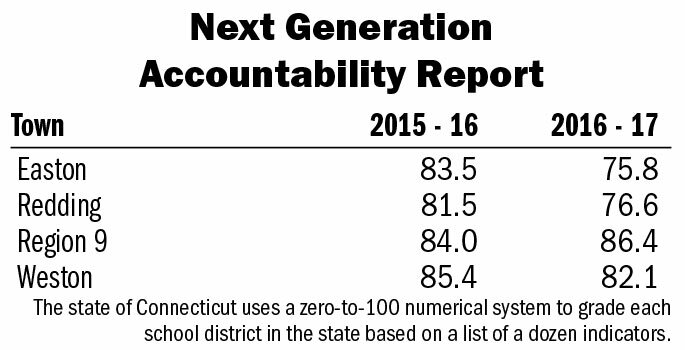 Weston, Easton and Redding public school districts each saw dropping grades on the state's annual assessment of school performance, according to data released Friday, Feb. 9.
The data comes from an annual report put out by Connecticut's Department of Education. Each district earned worse grades in the 2016-17 school year than the 2015-16 school year.
The Weston school district scored 82.1, down from last year, when it scored 85.4. Easton's districtwide score is 75.8, down from 83.5 last year. Redding scored 76.6, down from 81.5 a year ago.
According to the Connecticut Department of Education, the state uses a zero-to-100 grading system that takes into account a dozen measures, including standardized test scores, enrollment in arts and Advanced Placement courses, graduation rates, chronic absenteeism, postsecondary entrance rates, physical fitness, and college enrollment rates.
The Department of Education calls this Connecticut's Next Generation Accountability System. The state says indicators are there to "help tell the story of how well a school is preparing its students for success in college, careers and life."
According to the Department of Education, the system "moves beyond test scores and graduation rates and instead provides a more holistic, multifactor perspective of district and school performance and incorporates student growth over time."
A more thorough examination of indicators may be found by going to edsight.ct.gov and clicking "next generation accountability."
The New Canaan school system was the highest-ranked school system in the state, with an 89.1 score. The lowest ranked district in the state was New Britain, at 55.7.
School grades
In addition to district grades, the state uses the indicators to analyze each individual school on the same basis.
Weston's Hurlbutt Elementary School scored a perfect 100 from the state in the 2016-17 report. Hurlbutt also earned 100 in the 2015-16 report.
Weston Intermediate School went down to 78.2 from 82.1 in the previous report. The middle school went down to 70.2 from 75.6 in the previous report.
Weston High School, however, saw an increase in the state's grade, earning 95.8 in the new report, up from 93.2 in the previous report.
Joel Barlow High School, which serves both Easton and Redding, scored 86.9, up from 85 in the previous report.
Samuel Staples Elementary School in Easton scored a 77.5, down from 89 in the last report. Helen Keller Middle School scored a 72.7, down from 79.5 in the previous report.
Redding Elementary School scored 86.3 in the most recent report, down from 94.8 in the previous report.
John Reed Middle School scored 72.8 in the most recent report, down from 78.4 in the previous report.
There were 1,045 public schools graded by the state. Of those, 647, or 62%, saw their overall scores drop. Three percent of schools had no change, and 35% saw an increase.