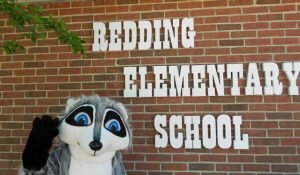 Can you calculate how many blades of grass there are in a field?
Third and fourth graders in Redding Elementary School's gifted and talented program sure can.
In the program, "students are using the same resources that all the other children are using, but we're looking at them deeper, we're diving into them," Redding Elementary School Principal Natalie Hammond said at a recent Board of Education meeting.
Currently, in RES, eight third graders and 17 fourth graders receive 60 minutes a day of gifted and talented instruction in math.
In language arts, eight third graders and 22 fourth graders receive 30 minutes a day of gifted and talented instruction.
Redding Elementary School teacher Matt Farina is the instructor of the program.
Going forward, Hammond said, there should be eight to 12 students in each class to really provide "that differentiated and gifted and talented instruction."
Hammond said students in the program get the chance to deepen their understanding of the lesson "by getting involved in problem solving, inquiry and project-based learning."
The program encourages independence, Hammond explained. When students get an assignment, "there is a quick snapshot mini lesson and then children are off — doing a project, collaborating, and working in partnerships," she said.
It is the students who lead the conversations and learning, according to Hammond.
Hammond gave a comparison between a general education class and a gifted and talented class. In a general education class, students solve multiplication and division tables, while those in a gifted and talented class learn how to book airfare and a hotel, and make sure they are within a desired budget.
"It's multiple steps, it's taking that concept of area and perimeter to the next level," Hammond said. "The children are creating, collaborating, and communicating."
"When you hear and see the conversations that happen in these classrooms, you're going to be blown away," she said, inviting members of the Redding Board of Education to visit a gifted and talented classroom.
Identifying gifted children
Superintendent of Schools Tom McMorran said gifted and talented students make up three to five out of every 100 students.
In identifying students for the program, RES looks at many different criteria.
"It's a tiered process. We start with the Otis-Lennon School Ability Test. We also talk to teachers and have conversations with parents — it's a long process that we go through," Hammond said. "Once the children are identified from that, we take a look at the scaled scores."
Gifted and talented study group
Stephanie Pierson-Ugol, assistant superintendent of Easton, Redding and Region 9 Schools, began a study group of Redding's gifted and talented program in the fall of 2017. The group was composed of teachers and staff from both RES and John Read Middle School, as well as board members and parent representatives.
"We felt it important to hear from everyone as we really move forward in enriching our program," Hammond said.
The study group received more than 130 responses.
McMorran explained that the challenge in many gifted programs "is what we call rainbow and glitter glue," he said.
They really don't engage the children, he explained.
"We want to design our own activities to make sure the kids are engaged," he said.
According to Hammond, one of the goals in the study group is to reach out to other towns to see what they are doing in their gifted and talented programs.
"We are reaching out not only in Fairfield County but to Westchester County and even as far as Finland and Norway. We want to see what other districts are doing," she said.
Meeting the needs of all students, regardless of ability
In light of all the positive features of the gifted and talented program, McMorran said, he doesn't want parents to think a general third grade class "is like vanilla and the gifted and talented class is the chocolate sundae," he said. "There is a lot of great work going on. There is project-based work in all third grades. There is engagement, there are teachers seeking to unlock the potential of the kids."
Extracurricular activities at all three schools play a large role in helping children articulate their passions, according to McMorran.
"The high school has more than 65 clubs, from service to robotics," he said. "There are also sporting teams at the high school, and musical programs, and art programs. There are lots of ways for a kid's Velcro to be found."
McMorran explained that an educator's job is to meet the needs of all children.
"Teachers should be providing learning opportunities for all, taking into account students' different learning styles and teachers' teaching styles," he said.
The next gifted and talented study group meeting will be on Thursday, Feb. 22, at Redding Elementary School.