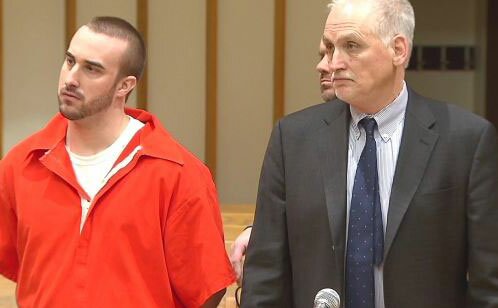 The murder trial for Kyle Navin starts tomorrow, Tuesday, April 17, in Bridgeport Superior Court.
Navin, 29, is accused of the double murder of his parents Jeffrey and Jeanette Navin. The couple were initially reported missing from their home in Easton in August 2015. Their bodies were found three months later inside contractor bags and buried under leaves in a yard at an abandoned home in Weston. Both had been shot.
Navin and his girlfriend Jennifer Valiante were arrested in the case. Valiante pleaded guilty under the Alford Doctrine to conspiracy to commit murder and hindering prosecution and is serving an eight-year sentence.
Navin has pleaded not guilty to the charges and is being held in lieu of a $2.5 million bond.
Navin was offered a plea deal by the court of 60 years in prison in exchange for pleading guilty to two counts of murder. He refused the deal in December, sending the case to trial.
Jeffrey and Jeanette Navin were longtime residents of Weston and had recently moved to Easton when they were reported missing in August 2015. Jeffrey Navin, 56, was co-owner of J&J Refuse of Westport, where Kyle Navin worked. Jeanette Navin, 55, was a longtime paraprofessional at Weston public schools.
According to police reports, Kyle Navin was a heroin user and killed his parents because he was concerned that he was going to be cut from their wills.