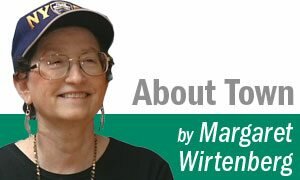 Thank goodness I live in Weston.
We should be very proud of how we deal with local issues. My prime recent example would be, of course, the recently completed phase of the Dog Park saga.
Everyone in Weston should be impressed with how we managed to engage close to 25% of all eligible voters in last week's vote on this issue, even though a windstorm and power outages were developing as the day wore on, and even though we don't have a town-centric print newspaper. The selectmen had wanted to hear from the general public on this issue. And they did.
Some might question whether the close outcome provides meaningful information, while perhaps referring to the old adage that "close" only counts in a game involving horseshoes. But in any event, in addition to the intrepid dog park advocates and their four-legged associates there was another group of winners.
Chalk this one up as a big success for the Board of Selectmen as well as the municipal staff who have worked hard to try to provide the town with a new kind of park-within-a-park.
I have closely followed the actions of the selectmen throughout this process, and attended essentially all of their meetings. I can say that at all times they have behaved honorably, honestly, and sincerely.
This applies to one selectman's recusal because he had what could be perceived as a conflict of interest. Another selectman, who is new to Weston government, moved up the necessary learning curve speedily.
Leading the pack was our first selectman, elected to that position not long ago. I recently had the privilege of interviewing Christopher Spaulding for my About Town TV program, which can be viewed as described at the end of this column.
Chris addressed my numerous questions during the interview with characteristic grace and sensitivity. It came across clearly that he approaches issues in a manner that is open-minded, pragmatic, and perhaps most of all is data-driven. I am very impressed with his determination to do right by the town of Weston.
Let us also not forget the seemingly endless series of inputs demanded of other town boards and commissions in relation to the dog park issue, which has been going on since at least May 5, 2016. That was the date of the Board of Selectmen meeting at which I first heard about this proposed public-private partnership for dogs.
Previously Weston has engaged in public-private partnerships with open space entities, such as the Nature Conservancy and "Friends of" groups, a notable example being the "Friends of Lachat."
And who can forget the heroic efforts of "WestonArts" in securing private donations that funded a goodly part of the cost of the high school auditorium renovation? They worked with another stellar group of Weston volunteers, the town's Building Committee, to accomplish the project within budget.
This is how Weston has often managed to do good things for its people in recent decades —  government, 501(c)(3) organizations, and individual volunteers working together.
NOTE: "About Town" is also a television program. It appears on Fridays at 5:30 p.m. and Saturdays at 10 p.m. on Cablevision Channel 88 (Public Access). Or see it at www.aboutweston.com.