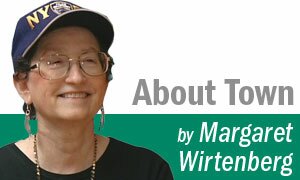 What are you doing Saturday morning, Oct. 13, from 10:30 to noon? I'm going to be at the Weston Town Hall meeting room.
Get ready for the League of Women Voters of Weston's debate for candidates to represent the 135th District in the state legislature. Namely Democrat Anne Hughes and Republican incumbent Adam Dunsby. This is the district that encompasses the three towns served by the Aspetuck News — Easton, Weston, and most of Redding.
Partisan politics aside, what are the issues? Most people are horrified at what has been going on in Washington, D.C. lately, although perhaps for a variety of reasons. Does any of this relate to Connecticut's 135th District?
A report on a recent survey of sexual harassment that has occurred in the State Capitol complex surfaced last month. A question for the candidates might be if they are familiar with that report. We note that in the Connecticut House there are 21 members of the Majority Caucus who are female, and 20 in the smaller Minority Caucus.
An anonymous group of nearly 600 employees, legislators, lobbyists, and "others" participated in the survey. Of the 569 individuals who responded to a question asking if they had ever experienced hostile sexual harassment at the Connecticut General Assembly or CGA-related events, 439 indicated they had not. But of those who had, more often than not it had been inflicted by legislators.
The Permanent Commission on the Status of Women is said to have championed this issue.  You may recall that the commission no longer exists as an independent body.
What are some Connecticut specific issues to consider, as you ponder what to ask the candidates on Oct. 13?
The three towns in the 135th District depend to greater or lesser degrees on groundwater purity and availability. What zoning challenges do the candidates foresee that might eventually affect the ability of each town to control land use?
I am particularly interested in hearing about regionalization in education. Both candidates are from Easton, which shares a high school with Redding. Weston High School goes it alone.
Would each of them, as our prospective representative, think the three towns might combine education resources to reduce administrative expenses? Or would Weston just end up losing control of spending on this part of its budget?
If, as is arguably the case, the state is on a "fiscal cliff" where does that leave the 169 individual towns?
The governor had tried to pass along state debt to municipalities the other year. How do the candidates feel about sharing of local property taxes with the state?
Could the legislature mandate mergers for those towns that do not have "home rule" charters?  Weston has been a charter town since 1967, having revised its charter five times since. Can the legislature take this right away unilaterally?
On Saturday, Oct. 13, I'm going to be at the League debate. I hope you will be there, too!
"About Town" is also a television program. It appears on Fridays at 5:30 p.m. and Saturdays at 10 a.m. on Cablevision Channel 88 (Public Access). Or see it at aboutweston.com.