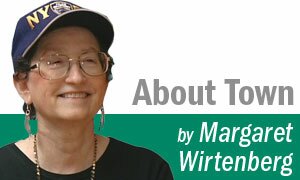 A celebration of man's best friend is front and center this Saturday.
Thanks to the Kiwanis Club of Weston, on Sept. 8 from 10 a.m. to 4 p.m., your dog can stop by and observe or participate in competitions, demonstrations, and seminars. And in the process perhaps learn some useful new techniques. Or even get free medical advice. The Weston Middle School field will be the location of the "Dog Jamboree." Admission cost is modest, and the event will benefit charitable causes.
The K9 unit of the Westport Police Department will perform. That's perhaps reason number one to attend.
Dogs may not outnumber humans in Weston, but their numbers do amount to upwards of 10% of the two-legged population. This seems to me to give them barking rights. That same percentage, as applied to polls of two-legged voters, is being used to determine eligibility for participation in televised debates by would-be candidates in Connecticut's upcoming gubernatorial election.
Saturday's event can also be viewed as a possible "job fair" for four-legged Westonites.  Assuming they have up-to-date licenses, of course. Might some want to learn how to participate in search and rescue operations, or even to sniff out evil-doers?
I recall a fairly recent ordinance that as originally proposed by a previous Board of Selectmen caused a furor in town. It would have severely restricted the use of town properties by our four-legged friends. But after a public hearing substantial modifications were made to the original wording.
Speaking of four-legged Weston residents, at last week's special selectmen's meeting cats were on the agenda. The first selectman reported a recent sighting of a bobcat near the Hurlbutt playground. With "back to school nights" currently being held I am sure parents will be checking to see if any are in view.
Only in a place like Weston would this become a major action item for the selectmen. With characteristic promptness, our police department, animal control officer, and the ever-helpful landscapers at the Department of Public Works immediately sprang into action. My prediction is that bobcats will not only choose to avoid attending "back to school nights," but they will retreat undercover for the rest of the school year.
Some years ago, former First Selectman Gayle Weinstein inaugurated the tradition of presenting "First Selectman's Reports," also referred to as "First Selectman's Updates," at meetings of the board. First Selectman Nina Daniel continued the practice. It seems to have become permanently embedded in what must be included in agendas for their meetings. The topic or topics that must be covered in the reports are not formally defined, and they tend to differ widely from meeting to meeting.
That tradition is one reason Westonites can count on learning "what's up?" at all meetings of this board, the top rung of our municipal public entities.
So, whether at regular meetings or special meetings of the Board of Selectmen, the first selectman is there to report to you. First Selectman Chris Spaulding continues the tradition.
"About Town" is also a television program. It appears on Fridays at 5:30 p.m. and Saturdays at 10 a.m. on Cablevision Channel 88 (Public Access). Or see it at aboutweston.com.