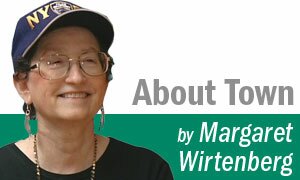 Why do people move to Weston, Connecticut? Why do they stay?
Please join the League of Women Voters of Weston for lunch on June 1, at noon at the Aspetuck Valley Country Club. The league's Betty Hill Forum on International Affairs follows the luncheon.
It is not too late to "pay at the door" and attend this annual event. You can find further details at lwvweston.org.
Both the ambience of that locale and the camaraderie you'll find there will serve to illustrate my answers to the questions asked above. Weston is "drop dead gorgeous," and Westonites of all ages value education.
Speaking for myself, I was looking for peace and quiet when I moved here in 1980. My impressions of the town from my early years here remain vivid in my memory. I especially recall three things that reinforced my positive first impressions.
Number one was the Weston Shopping Center, especially The Lunch Box.
Number two was related to The Lunch Box. Having noticed that volunteerism helps make Weston the special place that it is, I decided to inquire if I might be of assistance to the Planning and Zoning Commission.
Having discerned that a woman I saw almost daily at The Lunch Box in Weston Center was Republican First Selectman Susan Hutchinson, I introduced myself, résumé in hand. She was interested and contacted that commission's chairman.
Then I thought to call her and admit I was a registered Democrat. Her reply was classic. "Oh, here in Weston it doesn't matter what party you are in!"
All these years later I can assure you that she spoke the truth as far as planning and zoning issues were concerned.
The third winning impression came during an election season. Weston's League of Women Voters conducted a debate near the end of a very contentious campaign for the Board of Selectmen.
The debate was held at Norfield Parish Hall. It was run in a format similar to "Town Hall Debates" that are popular nowadays, but seemed novel at the time.
Whether or not the outcome was affected by the debate is an open question. But in an election decided by very few votes, it certainly seemed possible.
One thing I learned about Weston that evening was that its League of Women Voters is the go-to organization for debates. Another thing was that civility is the essence of Weston LWV election activity.
The questions at that debate were to the point, polite, and uniformly intelligent, albeit in some cases politely conveying the questioner's political leanings. As a newcomer to town, having spent most of my life in New York City, what a refreshing change it was.
Who would have thought such a place existed?
NOTE: "About Town" is also a television program. It appears on Fridays at 5:30 p.m. and Saturdays at 10 p.m. on Cablevision Channel 88 (Public Access). Or see it at www.aboutweston.com.